Angry Bird Lovers are angry with Piggies (New Version) !!! : Review of Bad Piggies.
Bad Piggies V/s Angry Birds (Share your Views after Playing with Bad Piggies).
Piggies are not Real angry Birds…:P Angry Bird is introducing Bad Piggies on 27th, sept, 2012.
I would like to start my Post with Happy Birthday of GOOGLE. The King of Wooga (World of Gaming) n Rovio Inc. your guess is right it is ANGRY bird Game. It is favourite one and one of the largest playing game on the wooga. It is the Warrior of the Facebook and grabs more of the crowd when gamers started loving buy, wear its flip flops, tees n other accessories.
Rovio Inc. Launches a new version with Piggies that has proved a Flop show. Angry bird lovers are not ready to take this for next hit in the game.
The new game will feature pigs which strike back at the birds who attacked them with slingshots in Angry Birds.
A hit on app stores would give the Finnish company a boost as it looks to a possible stock market flotation next year. Some analysts put its market value at between $6 billion and $9 billion, nearly on a par with another top Finnish tech name, phone maker Nokia Oyj.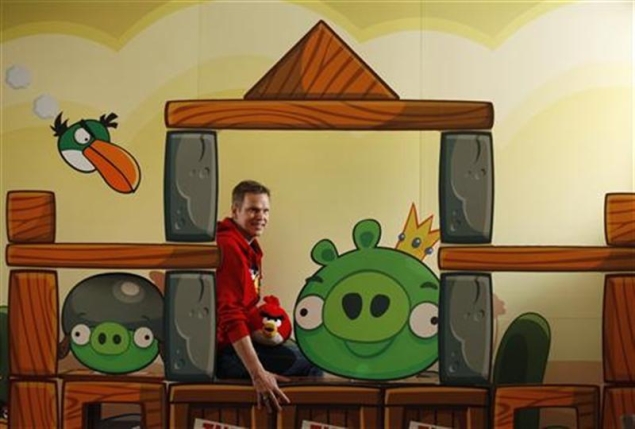 It has remained at the top of gaming charts, with more than a billion downloads, and had 200 million monthly users at the end of 2011. That compares for instance with the 240 million attracted by offerings from US-based Zynga, such as the Facebook -based Farmville.
But there are signs Rovio is losing its momentum.
Amazing
Alex, the first non-Angry Birds game in more than two years from Rovio, hit no. 1 on download charts in July but has since slumped to outside the top 50, while Angry Birds Space has dropped fast from the top-grossing lists.
"Rovio needs a big hit right now. Over the past two months, Rovio's revenue-generation ability has suddenly slipped badly," said analyst Tero Kuittinen from Finnish mobile analytics firm Alekstra.
In Bad Piggies, instead of shooting with a slingshot, players build vehicles that help the characters get the birds' eggs. The company said it was hoping the new game would breathe additional life into its brand.
"There is no doubt that the pig game will hit number 1 at launch. But it has to stay in top ten for half a year to erase the doubts that the fast fade of

Amazing Alex

has created."
Some Angry News:
WILDLY POPULAR GAME
Angry Birds
is hurtling towards Xbox consoles, Playstation 3s and the Nintendo 3DS.
The game, well, the three games, will be released later this week and see the bird-brained fun rolled into one title.
Since most people will have already played

Angry Birds

by now, Rovio has added 19 new levels to the game and a slew of new achievements and trophies. It reckons that all this adds up to over 100 hours of gameplay, which is a lot of gameplay.
Note of the day: Popularity does not brings success it has to stick with quality for the prosperity.
Regards,
Pankaj Goyal (Pankaj.goyal.21@facebook.com)
Views are required for further improvment...;-)